What to Expect on Your Next Adventure
---
AGC requires all participants and guides to have received their final COVID-19 immunizations at least 14 days prior to their trip's start date. 
We recognize that people have a variety of perspectives on COVID-19 vaccinations. We made this decision to require vaccination in accordance with the recommendation of the Centers of Disease Control and Prevention, which states that being vaccinated for COVID-19 and other infectious diseases not only protects yourself and those close to you, it helps reduce spread of the disease in communities. 
If you are unable to be vaccinated for medical reasons, you may apply for an exemption from AGC's vaccine requirement. Exemptions will be assessed on a case-by-case basis. To apply, you must provide a medical certificate from a medical professional to AGC along with your exemption request.
Given the constantly changing global health environment, our plans may evolve as we consider new guidance and recommendations from health agencies. We'll keep this space updated with any changes that might affect you.
New Trip Procedures
---
We understand that deciding when to travel next is a personal decision that comes with both excitement and reluctance, especially now. Our goal is to help you feel comfortable and supported during your adventure and to help everyone travel with more ease. With that goal in mind, we have created the following policies and procedures in relation to COVID-19. We ask that you register for an upcoming trip only if you are comfortable with our policies and procedures outlined below.
PRE-TRIP PROCEDURES
---
Consistent with CDC guidance, all participants and guides must be fully vaccinated against COVID-19 before traveling with us on any trip, regardless of regional entry requirements. See here for CDC vaccine guidance. 
---
Any participant or guide who tests positive for COVID-19 within 14 days of a scheduled departure, will not be allowed to go on the trip, and may work with us to reschedule. 
ON TRIP PROCEDURES
---
At the start of your trip, your guide(s) will ask to see your proof of full vaccination. We recommend carrying a hard copy and digital copy of your COVID-19 vaccination record with you for the duration of your travels.
---
AGC guides will also take each participant's temperature at the start of the trip. A reading of greater than 100.4 degrees will require further evaluation of the participant at the nearest health clinic and a negative COVID-19 test before the participant will be permitted to continue.
---
All staff and participants will be required to wear face masks in vehicles and we will make room for empty spaces when logistics allow. Participants must also have face coverings at-the-ready to use when required locally.
---
All participants and staff are encouraged to wash hands as directed by the CDC. Due to the nature of our trips, there may be times when it makes more sense to use hand sanitizer rather than soap and water. 
---
We have temporarily suspended our roommate rotation policy, so that if you selected to be matched with a roommate, you will have that same roommate throughout the trip. 
---
If guides or participants experience any COVID-19 or flu-like symptoms during a trip, they will be physically distanced from the rest of the group and a determination will be made by AGC to seek definitive care. Symptomatic individuals will be required to wear a face mask at all times until reaching definitive care.
---
For international travel, the United States currently requires that all travelers returning to the country from abroad show proof of a negative PCR or rapid COVID-19 test taken within 3 days of their return flight. Per CDC guidelines, this requirement can be met with select self-administered tests. As of the date of this policy, Abbott's BinaxNOW At-Home Rapid Test Kit meets all requirements for inbound US travelers. For all programs outside of the United States, your guide will help you get a COVID-19 test before your flight home. The cost of this test is not included in the cost of the program and will need to be paid by participants. You can find more information about this requirement by clicking this link.
POST-TRIP PROCEDURES
---
We request that any guide or participant who develops COVID-19 or flu-like symptoms within 14 days of the last day of her trip get a COVID-19 test. If such a test comes back positive for COVID-19, please report the results to AGC. If we learn that anyone associated with a trip has tested positive for COVID-19 within 14 days of the trip's end date, we will contact the guides and participants from that trip to inform them. Any affected guides will be required to self-quarantine prior to guiding another AGC trip.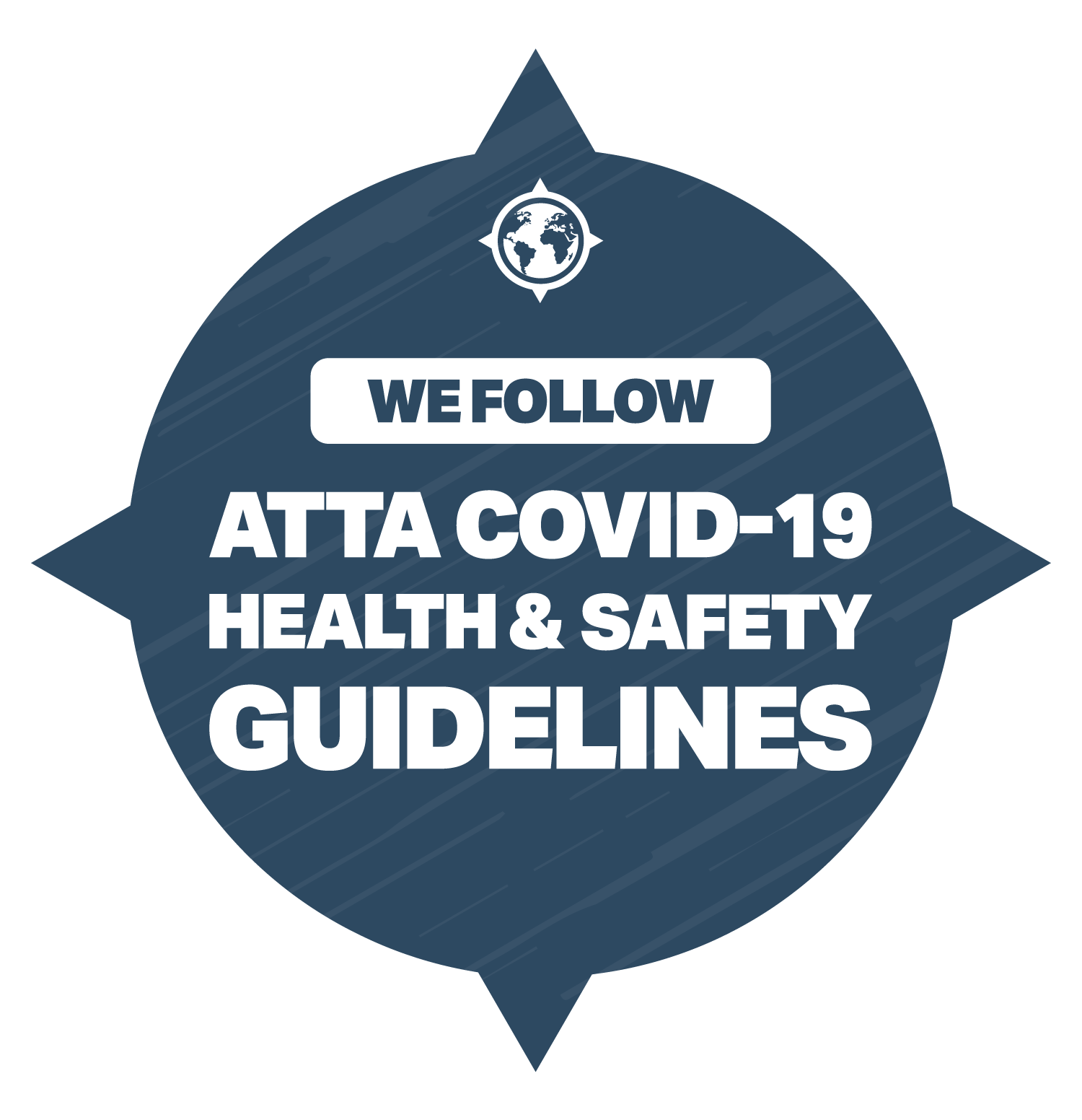 Additionally, our offices are staffed for emergencies, and we will endeavor to provide support for you as needed. Your guides will also work to proactively communicate with you about any COVID-19 related issues, and are prepared to manage any COVID-19 related adjustments that may be needed during your trip.
As the travel landscape continues to change, please read on for more information to help you decide when to travel next.
What if I cancel my trip?
---
If you cancel prior to the final payment deadline, the deposit will become a credit that can be used towards another trip within 3 years of cancellation. Please see our full Booking Terms & Conditions for details. If you test positive for COVID-19 in the two weeks prior to the trip start date, we may work with you to issue a travel credit towards a different trip, as well as with your travel insurance provider to submit documentation for a travel insurance claim, if applicable. 
Do you recommend or require travel insurance?
---
While we do not require travel insurance on our trips, some of our domestic and international partners do. In any case, we recommend getting travel insurance. For your convenience, we offer travel protection through Travelex Insurance Services. You can find them online at travelexinsurance.com or talk with a real person at 800-228-9792 and reference location number 06-0331. To learn more about Travelex's Coronavirus coverage, please visit:  https://www.travelexinsurance.com/covid19.
It is important to note that fear of travel, travel advisories and destinations being inaccessible due to Covid are not covered risks under the Travelex Insurance protection plans. However, insureds are still eligible for Trip Cancellation/Interruption coverage in the event they are prevented from taking their trip due to one of the other reasons listed in their Travelex plan. To help you understand what Travelex protection plans will cover, please refer to these Frequently Asked Questions. The full coverage terms and details, including limitations and exclusions, are contained in the insurance policy. Travelex Insurance Services, Inc CA Agency License #0D10209. All products listed are underwritten by, Berkshire Hathaway Specialty Insurance Company, NAIC #22276.
What if AGC cancels my trip?
---
If AGC needs to cancel a trip after the final payment deadline for reasons outside of our control, we will offer priority booking for the rescheduled trip and do all we can to transfer payments or issue a travel credit towards the rescheduled trip or a different trip that fits your schedule. Travel credits will remain on file for 3 years, so take your time to find the trip and the date that's right for you! Travel credits can be transferred to multiple re-bookings but are not refundable at any time. If the rebooked trip is priced higher than the original trip, the traveler will be responsible for the difference. If the rebooked trip is priced lower than the original trip, the traveler will receive a travel credit for the difference with the same travel credit terms. Travelers may apply whatever discounts or promotions are available at the time of rebooking.
You can also transfer travel credits to another woman for her to use on any new booking.
---
Please call us if you would like to transfer part or all of a travel credit to someone else - and thank you in advance for spreading the love of adventure!
---
Not ready to travel today? Check our calendar for future adventure opportunities and keep checking back as we're adding more trips every week! 
Please Note: All standard booking terms and conditions not explicitly addressed on this webpage remain in full force and effect.